Phoenix, AZ – Az Junk Removal is offering affordable and fast residential, retail, and commercial junk removal services. The company has been serving businesses and homeowners in the Phoenix metro area with hauling and junk removal services since 1999. Some of the services they provide as part of their junk removal include mattress removal, sofa removal, appliance removal, furniture removal, hot tubs, debris, trash, among others. They have affordable prices for all junk removal services and provide the service in a timely and efficient manner. Clients do not need to participate in any part of the junk removal process. The company has adopted an eco-friendly way of disposing of clients' junks to ensure the safety of the property, clients, their workers as well as the environment is maintained. Their junk removal process is determined majorly by two factors; volume and time.
Az Junk Removal has a culture of transparency and offers a detailed, quick flat-rate quote and no hidden cost for its junk removal services. This culture has not only inculcated a virtue of trust in their operations but also has made their services reliable for all commercial, retail, and residential clients. The affordability of their Phoenix junk removal service has improved accessibility by accommodating property owners of different financial abilities. Their staff's level of expertise and experience inhibits clients from getting into legal battles with state and local governments by following all relevant waste disposal regulations. Their quick response to junk removal and hauling service has always reduced the waiting time for their clients.
Besides their transparency,  Az Junk Removal also offers a same-day junk removal service. This service is customized to ensure that customers' junks are removed within the very day they contacted the company. The Phoenix junk removal pros consider same-day junk removal requests as an emergency case; thus, they respond to the call as fast as possible. They will ensure timely arrival at the property, estimate the cost of service, and begin the work immediately.
In addition to junk removal services, Az Junk Removal also provides other services like dumpster rental. They provide homeowners with dumpsters of varied sizes for specific days, depending on the client's needs. "We're an affordable option for renting small to medium-sized dumpsters for all your residential needs." Said the company's representative. Their dumpster rental solutions feature a stock of perfect dumpster sizes fit for everyday moves, cleanouts, or basic home remodel debris. The company's central location has made it extremely easy to initiate a quick dumpster drop-off as well as Phoenix bulk trash pickup at a time that fits the customer's schedule.
Az Junk Removal is located at 5115 N Dysart Road #202, Litchfield Park, Arizona, 85340. They can be reached via phone at 6027994181 for any general inquiries. Visit their website to learn more about their services.
Media Contact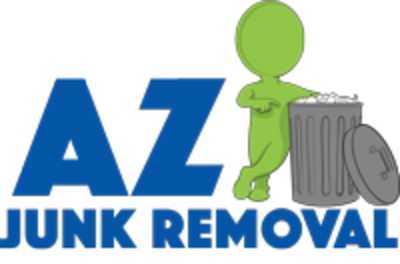 Company Name
Az Junk Removal
Contact Name
Arizona Junk Removal
Phone
6027994181
Address
5115 N Dysart Road #202
City
Litchfield Park
State
Arizona
Postal Code
85340
Country
United States
Website
https://azjunkremoval.com/