Brooklyn estate planning attorney Yana Feldman (https://yanafeldmanlaw.com/protect-your-assets-5-important-things-to-remember-when-writing-a-will/) of New York Legacy Lawyers has unveiled a comprehensive article highlighting the key considerations when writing a will. Titled "Protect Your Assets: 5 Important Things to Remember When Writing a Will," the article serves as a valuable resource for individuals seeking to safeguard their assets and ensure their loved ones' security.
With her extensive experience in estate planning, the Brooklyn estate planning attorney emphasizes the significance of drafting a will, regardless of age or current health condition. She urges readers to ponder the impact their passing will have on the important people and possessions in their lives, emphasizing the need for proactive measures.
In the article, the Brooklyn estate planning attorney addresses five critical questions that individuals should ask themselves when undertaking the process of creating a will.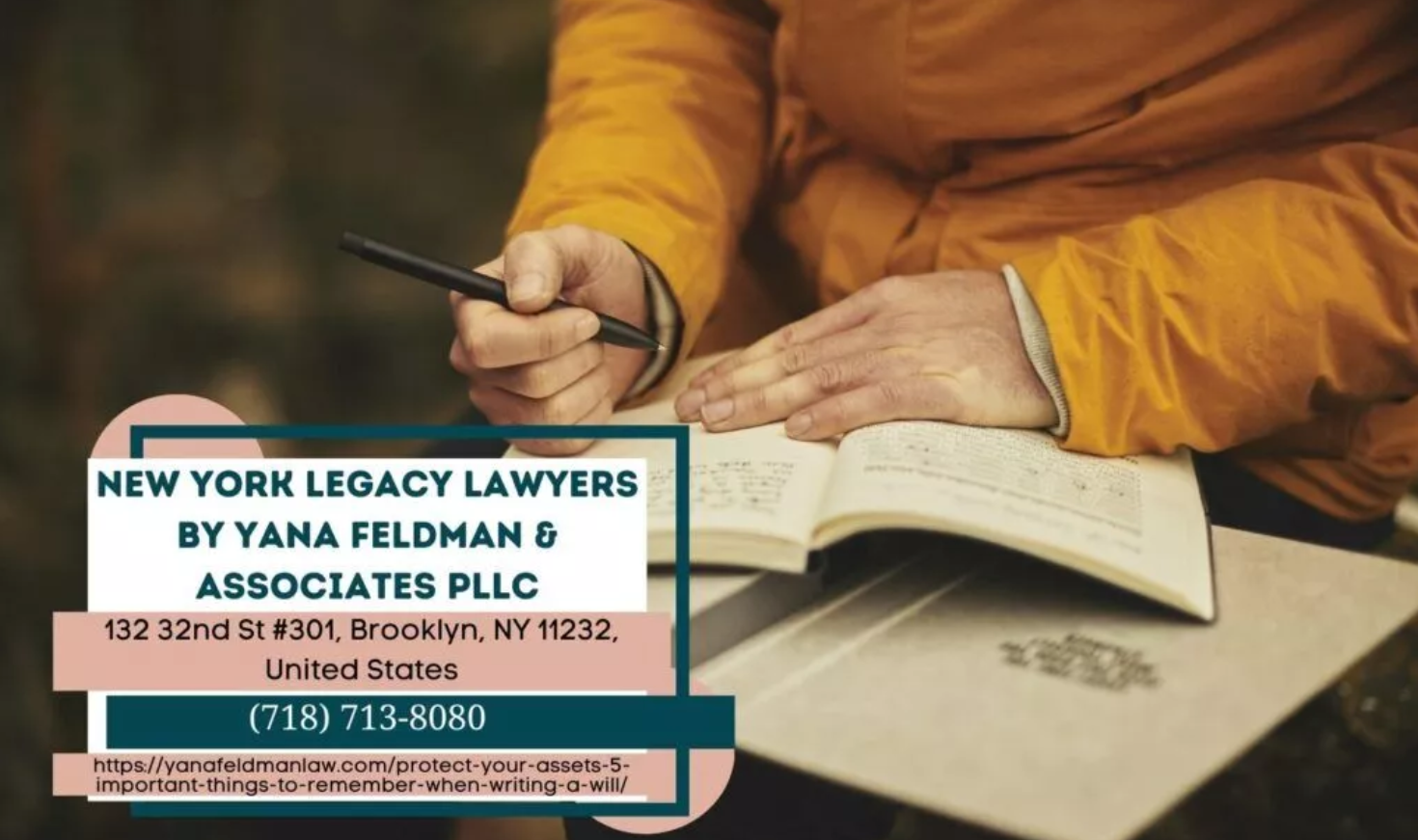 The first question focuses on the selection of an executor, who will oversee the execution of the estate. Feldman advises choosing a trusted individual who possesses the necessary organizational skills to handle the paperwork intricacies associated with the role. She emphasizes the importance of establishing clear communication with the chosen executor to ensure they are well informed about the location of essential documents and any pertinent online account passwords.
Next, Feldman stresses the significance of accounting for all owned properties in the will, both personal and real. Personal property includes assets such as bank accounts, heirlooms, and investments, while real property encompasses immovable assets like land and houses. By compiling a comprehensive list of properties, individuals can proceed to allocate them to beneficiaries effectively.
Selecting beneficiaries is the third crucial consideration highlighted in Feldman's article. She advises individuals to be specific and thorough in their instructions, including contingency plans in case the primary beneficiary predeceases them. Feldman clarifies that when joint ownership of property exists, only an individual's share can be bequeathed, not the entire property.
The fourth query delves into the appointment of a legal guardian for minor children. Feldman urges individuals to contemplate potential scenarios where the surviving parent may not be the optimal choice for custody. By carefully considering the guardian's suitability and engaging in open communication with them, individuals can ensure their children's well-being in the event of an untimely demise. A secondary choice for the role should also be specified in the will.
Feldman addresses the often-overlooked topic of pets. Recognizing the bond individuals share with their furry companions, she advises discussing the responsibility of caring for pets with the designated person, ensuring their willingness to take on the role. By addressing this concern in the will, individuals can gain peace of mind knowing their beloved pets will be well-cared for after their passing.
"Writing a will is a critical step in securing your assets and protecting your loved ones' future," says Yana Feldman. "By addressing these five essential questions, individuals can lay the foundation for an effective estate plan that reflects their wishes."
To further support individuals in their estate planning journey, Yana Feldman encourages seeking professional advice from the people in the field. The knowledgeable lawyers at Yana Feldman & Associates possess a deep understanding of estate planning and elder law, ensuring clients receive the guidance they need to navigate the complex process effectively.
About Yana Feldman & Associates:
Yana Feldman & Associates is a trusted law firm based in Brooklyn, New York, providing legal services in estate planning and elder law. Led by experienced attorney Yana Feldman, the firm is committed to providing personalized legal services tailored to each client's unique needs. With a focus on comprehensive estate planning, asset protection, and probate administration, Yana Feldman & Associates ensures clients have the necessary tools to secure their legacy and protect their loved ones.
Media Contact

Company Name
New York Legacy Lawyers by Yana Feldman & Associates PLLC
Contact Name
Yana Feldman
Phone
(718) 713-8080
Address
132 32nd St
City
Brooklyn
State
New York
Postal Code
11232
Country
United States
Website
https://yanafeldmanlaw.com/