Elite Hail Systems Austin Zero-Cost Repairs on Dented Vehicles
Austin, TX – Elite Hail Systems Austin is a Texas business that offers auto repair services. They restore hail-damaged and dented vehicles to their full book value without painting. The company has a main goal of keeping the cost of repairs at the zero-mark for the owner, so that their clients will not pay out-of-pocket. This is accomplished by waiving customer's deductibles up to $1,000 as well as taking on the cost of a rental car while the repairs are completed. Over the years, the business has cultivated strong networks within its industry that enable them to perform both administrative and mechanical tasks for its clients. They handle both the paperwork involved in filing insurance claims and the car or truck repair needs altogether.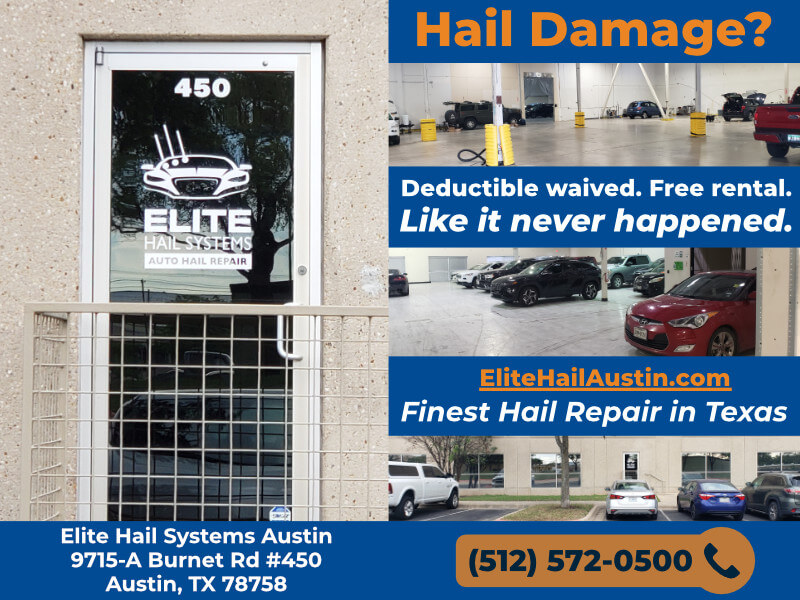 In their commitment to providing convenient, quality, and affordable services, Elite Hail Systems Austin, a Paintless dent repair leader, has spruced up its auto-dent removal services to make it more accessible to clients. The company has a team specialized in auto-dent repair services with decades of experience. The team works collaboratively with clients starting with a 10-minute assessment of the vehicle for damage. All costs associated with the repair are deducted from the car owner's insurance without raising their consequent insurance premiums. They also take up any costs from deductibles as high as USD 1,000. Besides taking up all administrative tasks, the company also ensures that all auto dent repairs are done within the shortest time possible, eliminating the long queues that clients endure to get booked for auto dent services. The company marketing director, Dan Hollister, had this to say about their services, "We do all the hard parts, including filing a claim, any insurance negotiations, fixing the damage, and making sure our clients get a full restoration; not to mention paying our customer's out-of-pocket costs for them."
Elite Hail Systems Austin Paintless Auto Dent Removal Services
The company also offers paintless dent repair services to clients who may live far from their location, through full concierge services where called for. They can send a team member to meet with the client at the nearest car rental service station and swap their car for a rental vehicle. In addition, during auto-dent repairs, Elite Hail Systems Austin covers the full price of a rental vehicle for their clients. Most importantly, the company guarantees to perform auto dent removal services to their clients' convenience within the shortest time possible. The company's services are of course often referred to as auto hail damage repair services. Through this service, clients have their hail-damaged cars repaired and charged on their comprehensive insurance policy. They also provide a free consultation with clients on different car repair needs.
Contact Elite Hail Systems Austin
Elite Hail Systems Austin is located at 9715-A Burnet Rd #450, Austin, TX, 78758, USA. Visit the company website to learn more about their services or call their office on (512) 572-0500.
Media Contact

Company Name
Elite Hail Systems Austin
Contact Name
Robby Searfoss
Phone
(512) 572-0500
Address
9715-A Burnet Rd #450
City
Austin
State
TX
Country
United States
Website
https://elitehailsystems.com/hail-repair-austin/