Sydney, NSW: Feedwell Catering Sydney is a leading corporate caterer redefining Sydney's catering industry. Since its launch in 2017, this 1300 Catering company has been committed to creating delicious menus that cater to people's unique dietary needs, preferences, and budgets. With their exceptional services, the catering team has successfully provided their expertise to businesses and organisations of all sizes, including renowned global multinationals such as Amazon and Apple. Additionally, they specialise in catering for offices, schools, universities, marketing and PR events, hotels and conferences, and hospitals.
The 1300 Catering Sydney team prioritises freshness by sourcing all ingredients from local Sydney markets. They further ensure that all seafood is sustainably sourced and the chicken used in their menus is RSPCA-approved. This commitment helps the company stand out in a highly competitive market and contributes to creating memorable events for clients. Moreover, as a company that does not outsource or rely on a corporate kitchen, Feedwell Catering Sydney hand-wraps everything on the day of delivery to guarantee the utmost freshness.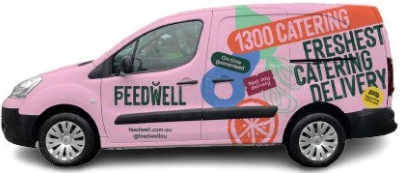 Feedwell Catering Sydney also recognises the importance of timely delivery, whether for an in-house party, breakfast meeting, or a large-scale conference. All orders completed by 4 pm are guaranteed to be delivered the next day, without delay, regardless of the client's location. In the event that a client misses the 4 pm deadline or requires last-minute same-day delivery, they can still contact the team. Moreover, the company can arrange for the client to collect their order from their Pitt Street store, conveniently located in the Sydney CBD.
Speaking about their experience, a client noted: "We recently used Feedwell Sydney to cater lunch for a work function. The food was exceptional, with menu options to cater for all dietary requirements, and exquisite flavours. The staff were professional, attentive, and accommodating to our requests. The pricing was reasonable, considering the high quality. I highly recommend this catering service for any special event. Of all the caterers Sydney, they are number 1!"
Feedwell Catering Sydney also actively collaborates with organisations to promote healthy eating habits and foster a positive team culture. One of the many ways they achieve this goal is by assisting organisations in developing customised meal plans. Whether weekly, fortnightly, monthly, or for a one-time event, the highly experienced team curates meal plans that consider the employees' dietary needs, the organisation's budget, and the team's diverse tastes.
In addition to providing high-quality catering services, Feedwell Catering Sydney is dedicated to sustainability. The company's commitment to a greener planet extends to its packaging, which is 99% recyclable. The plates, napkins, and cutlery are also certified compostable. 
Feedwell Catering Sydney is located at 56 Pitt St, Sydney, NSW, 2000, AU. Businesses and organisations interested in high-quality catering services can contact the company at (02) 9252 1982. Visit the website for more information. 
Media Contact

Company Name
Feedwell Catering Sydney
Contact Name
Eric Saad
Phone
(02) 9252 1982
Address
56 Pitt St
City
Sydney
State
NSW
Postal Code
2000
Country
Australia
Website
https://feedwell.com.au/