Representatives of global companies, along with governments and civil society organisations from around the world, will meet at the sixth Global Forum for Responsible Recruitment in-person (New York) and online to tackle one of the most common forms of exploitation facing migrant workers – the payment of recruitment fees. 
The Forum is being hosted by the Institute for Human Rights and Business (IHRB) and Aim Progress on June 13th -14th 2023, and will address the ongoing need to eliminate the practice of migrant workers being forced to pay recruitment fees to secure employment, which can result in significant levels of debt for workers, and lead to forced labour conditions.
The impact of recruitment fees
Charging of recruitment fees remains one of the most common yet hidden forms of exploitation facing migrant workers.
Migrant workers are three times more likely to be trapped in forced labour often caused by exploitative recruitment practices.
And estimated $1.4 billion is lost to recruitment fees* annually – money that could be driving development in home communities.
Neill Wilkins, IHRB's Head of Migrant Workers Programme, said:
"Recruitment fees and associated costs and charges are a drip, drip, drip of exploitation facing migrant workers. Fees are introduced at the start of a migrant worker's job cycle – they are how vulnerability gets sewn into their employment. Charging recruitment fees is an insidious and unethical practice that can result in significant levels of debt for workers, and can lead to forced labour conditions.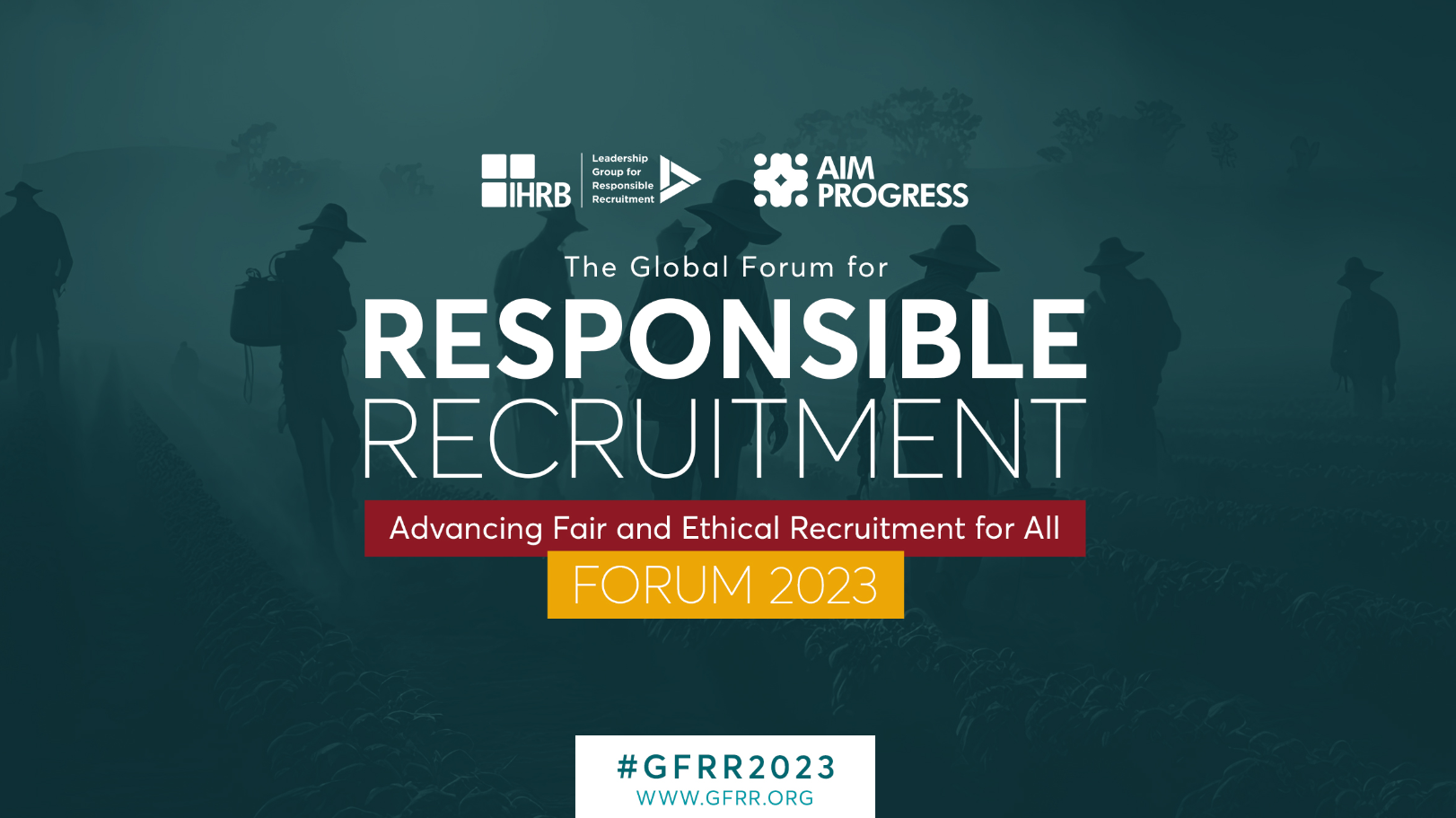 "The Employer Pays Principle says no worker should have to pay for their own job. It's a message the Global Forum for Responsible Recruitment will persist in keeping on the agenda, so that recruitment fees charged to workers will one day be stamped out of supply chains for good."
Louise Herring, Executive Director at Aim Progress said:
"AIM-Progress are delighted to be partnering with the IHRB on the Global Forum for Responsible Recruitment. This year's agenda is a packed and progressive one and we are looking forward to seeing members and other stakeholders at the event and sharing learnings and next steps back with the AIM-Progress membership and our Responsible Recruitment working group."
The Global Forum for Responsible Recruitment, June 13th – 14th
In-person places to the Global Forum for Responsible Recruitment are fully subscribed, but online places are available. Online attendees will access a virtual forum platform, allowing them to watch panel sessions live or on demand, as well as network with other attendees and speakers online. 
Details of featured speakers and session speakers can be found online at: gfrr.org
IHRB and Sustainable Shipping Initiative (SSI) recently published new research which found the charging of recruitment fees was the most common illegal practice experienced by seafarers surveyed. The Seafarers and Recruitment Fees Research Briefing, surveyed almost 5,000 seafarers between September 2022 and February 2023. Two sessions on day two of the global forum will be dedicated to addressing recruitment fees in the shipping industry. 
– Ends –
For more information, interviews or comment please contact Deborah Sagoe at IHRB: deborah.sagoe@ihrb.org  
In-person event details: 13-14 June 2023, Clifford Chance Offices, New York.
Online event details: 13-14 June 2023 via virtual platform. To sign up, register at https://gfrr.org/?utm_source=email&utm_medium=referral&utm_campaign=pr_campaign 
What are recruitment fees? 
Migrant workers frequently pay fees to agencies and brokers for recruitment and placement in jobs abroad. These fees may cover costs including the recruitment itself, travel, visa and administrative costs, and often other unspecified 'fees' and 'service charges'. These fees are often substantial and are sometimes set up as loans with high rates of compound interest. These recruitment fees charged to workers represent the dominant business model in many parts of the world, including within the supply chains of leading brands. This means that many workers are already exploited and made vulnerable before they even arrive at their place of work. Adoption of the Employer Pays Principle across all industries is fundamental to combatting exploitation, forced labour, and trafficking of migrant workers in global supply chains and represents an important step in achieving the UN Sustainable Development Goal of decent work for all.
IHRB Recruitment Fees Briefing: https://www.ihrb.org/focus-areas/migrant-workers/briefing-recruitment-fees
About the Institute for Human Rights and Business (IHRB)
The Institute for Human Rights and Business (IHRB) is an international think tank with a mission to shape policy, advance practice, and strengthen accountability in order to make respect for human rights part of everyday business. IHRB works on a broad range of issues including the Built Environment, Migrant Workers, Just Transition, and Oceans. 
About Aim Progress
AIM-Progress is a global forum of leading Fast Moving Consumer Goods (FMCG) manufacturers and common suppliers, assembled to enable and promote responsible sourcing practices and sustainable supply chains. Their members work together to co-create solutions and share best practices to drive positive impact quickly, efficiently, and at scale within the branded consumer goods supply chain. Their key objective is to build capacity so that member organisations and their suppliers have the knowledge, confidence, and ability to develop and execute robust responsible sourcing programmes. AIM-Progress and its individual member companies are working to promote Responsible Recruitment in global supply chains. Challenging the payment of worker  recruitment fees and related costs is a key strategy and focus for 2023.
*ILO, 2009 report 'The cost of coercion': https://www.ilo.org/global/topics/forced-labour/publications/WCMS_106268/lang–en/index.htm
Media Contact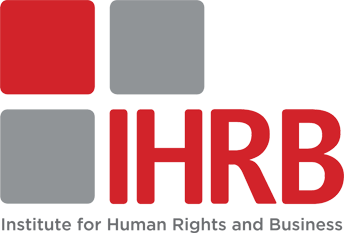 Company Name
Institute for Human Rights and Business
Contact Name
Deborah Sagoe
Phone
+44 (0)20 3411 4333
Address
Railview Lofts, 19c Commercial Road
City
Eastbourne
State
East Sussex
Postal Code
BN21 3XE
Country
United Kingdom
Website
https://www.ihrb.org/