CHICAGO – Insurance Navy's new website which prioritizes faster load and response times along with an updated look and user interface has been live for the past couple of weeks. The website is in response to a trend of online insurance shopping and the convenience to file claims and make payments online. 
"The very first thing we wanted was everything to be faster," says Insurance Navy CEO Fadi Sneineh, "We upgraded to serverless technology, so everything moves faster not just for our desktop site users but also mobile users. It passes the Google Core Web Vitals test, which is based not just on speed, but also on user interactivity."
The new Insurance navy website uses Cloudflare, a content delivery network that specializes in quick, serverless load times, click reaction times, and secured and private interfaces for account users. This is an especially needed upgrade for the free quote calculator now on the homepage. In three easy steps regarding information about the applicant, the vehicle, and the driver can be filled out in less than five minutes, even in times of high web traffic. In addition, customers and policyholders can make payments online, file claims and renewals.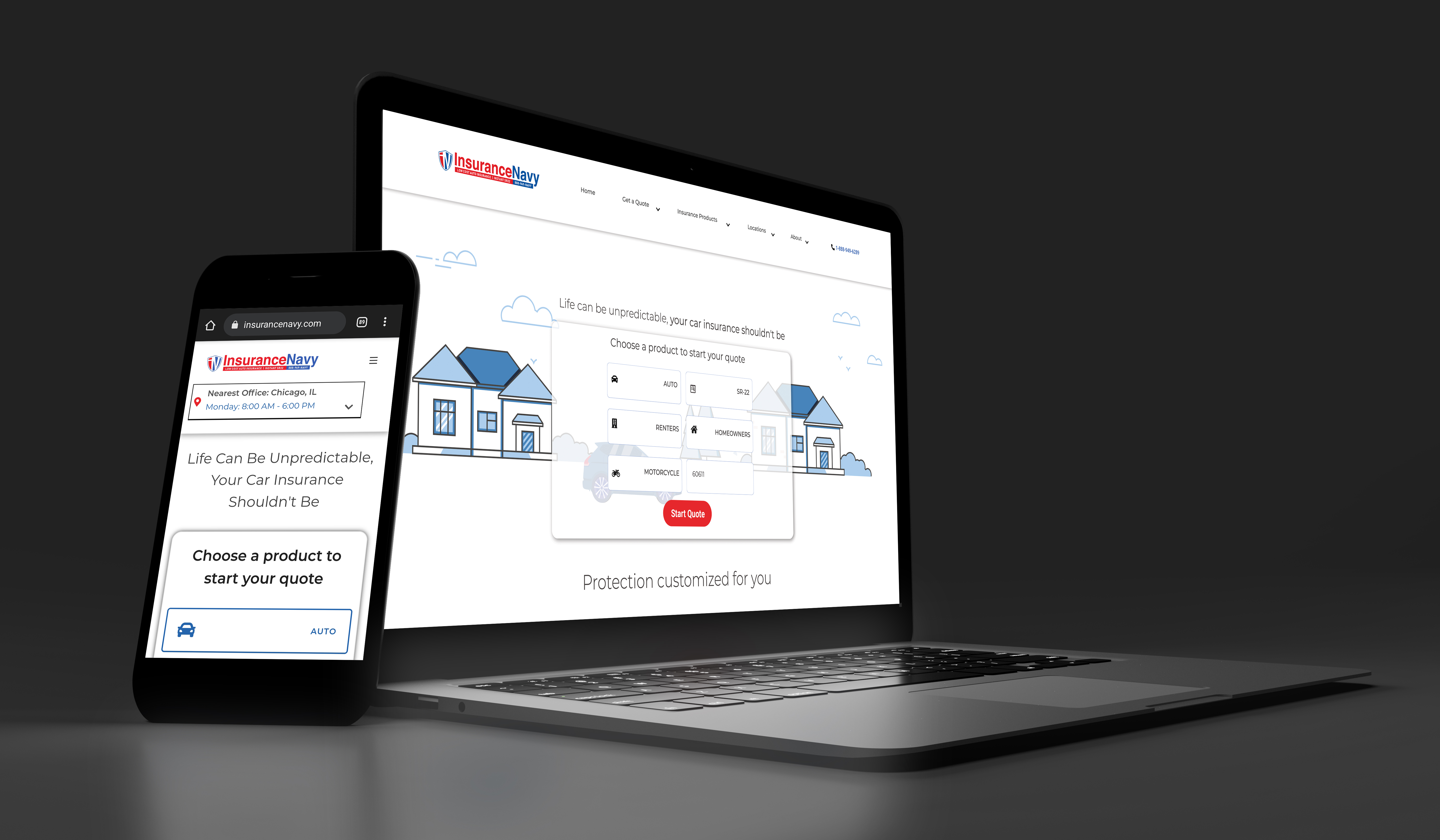 The previous Insurance Navy site simply listed their locations. The updated site comes with a new location finder feature so anyone can pinpoint the brick-and-mortar sites and stores closest to them. The website is also packed full of content and information about auto, homeowners, motorcycle, renters, SR22, and so much more that Insurance Navy provides coverage for. 
"There is an industry trend of more user-friendly websites and online interfaces. This is what prompted us to take an innovative approach to our website. Our policyholders and existing customers also have a new secured way because of Cloudflare to make payments, claims, and any policy renewals. Also, everything looks much cleaner and moves faster, and all the content is organized better. Our new website is more user-friendly, smarter, accessible, and convenient than ever before for both our desktop and mobile users." Sneineh said. 
Insurance Navy continues to be the fastest-growing insurance company in Illinois as its website has seen an increase in users and online shopper traffic since it went live. 
For more information, visit us at www.insurancenavy.com or follow us on Facebook, Instagram, LinkedIn, Youtube.
About Insurance Navy Brokers
Insurance Navy is a provider of non-standard auto insurance, selling products in over 30 storefronts, a call center, and online in Illinois, Indiana, Wisconsin, Texas, and California. In addition to auto insurance, the company sells other financial products and services, including homeowners insurance, renters insurance, and roadside assistance.
Contact Information:
Insurance Navy Brokers
Address: 5114 W Cermak Rd, Cicero, IL 60804
Phone number: (708) 400-7122
Media Contact

Company Name
Insurance Navy
Contact Name
Jeremy Lok
Address
210 South Clark Street
City
Chicago
State
Illinois
Country
United States
Website
http://www.insurancenavy.com/