Erin Beers, known for her engaging language arts teaching resources, is thrilled to announce her participation in The Ultimate ELAR Bundle. The exclusive collection of over 400 language arts resources will be available online July 25-31.
ELA teachers looking to stock up and save on a wide variety of teaching units and lesson plans are invited to check out The Ultimate ELAR Bundle. This collaborative bundle includes over 100 resources per grade level that can be purchased together, or as separate bundles across 4 grade levels serving 5th through 8th grade.
Erin Beers from MrsBeers.com recently announced her participation in the event, joining dozens of notable teacher authors from the popular website Teachers Pay Teachers. She highlighted what attracted her to the opportunity in a blog post at: https://mrsbeers.com/an-incredible-deal-on-back-to-school-teaching-resources/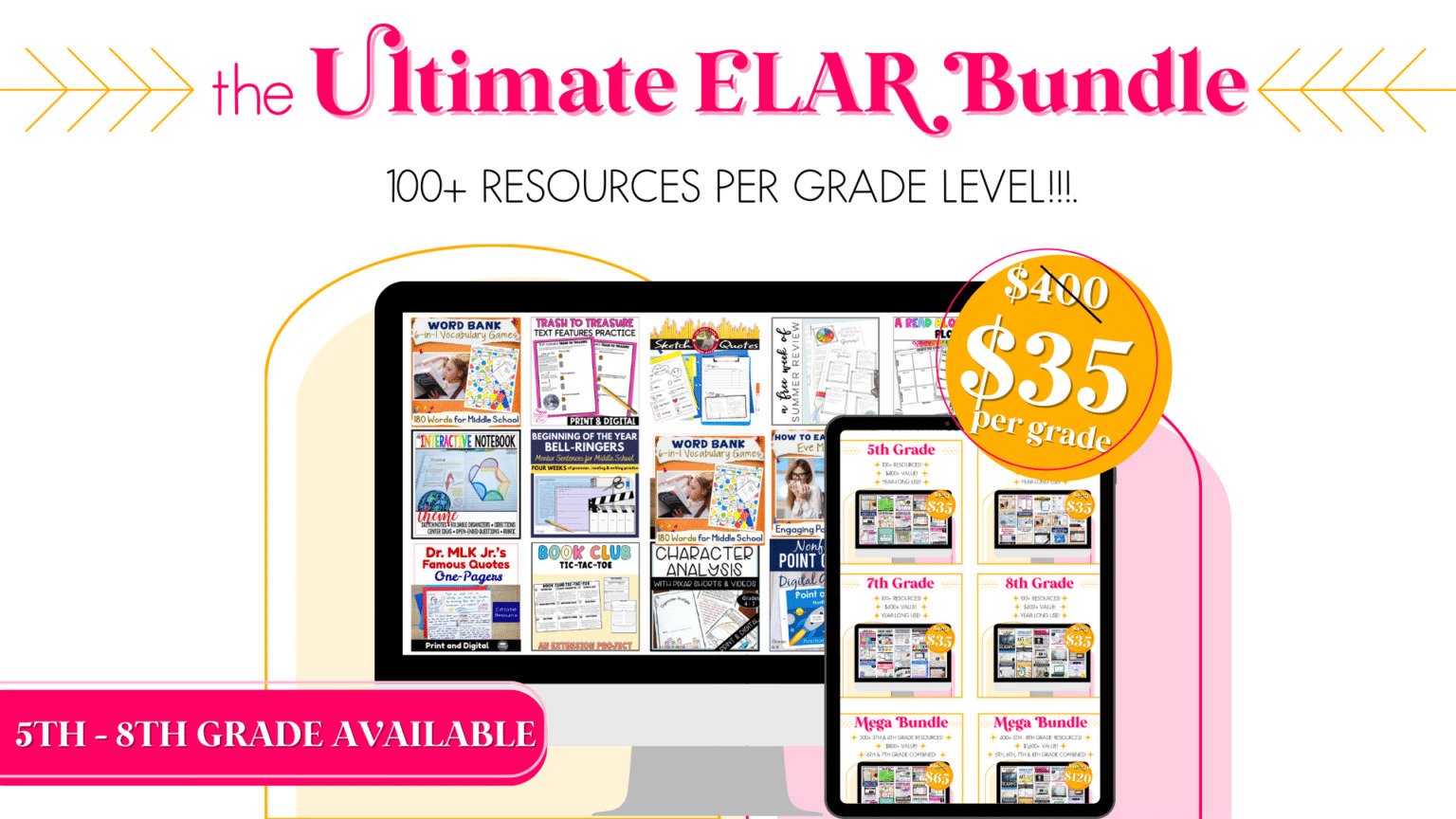 "I rarely participate in collaborations like The Ultimate ELAR Bundle because they require a lot of work during the busy back to school season," Mrs. Beers explains. "In this case though, the value we are offering language arts teachers by collaborating was something I wanted to be a part of."
Mrs. Beers contributed a total of 5 resources, all of which are featured in the 6th grade ELAR bundle. This list includes some of her most popular TPT products. The full list of contributions is provided below:
Digital Narrative Writing Unit for Google Classroom
All About Athletes Close Reading Passages
Getting to Know You Chit Chat Cards
Sentence of the Day Daily Resource
Word of the Day Daily Resource
Including the contributions from Mrs. Beers, The Ultimate ELAR Bundle contains over 100 teaching resources for 6th grade language arts teachers. Those who teach other grade levels can choose from similar grade-specific bundles for 5th grade, 7th grade, and 8th grade. 
"My goal as a teacher-creator is always to deliver value to my fellow educators," Mrs. Beers says. "The quality of resources in The Ultimate ELAR Bundle, and the affordable price, make it an easy win for time-strapped teachers like me."
About Mrs. Beers ELA Classroom:  Erin Beers is a 7th-grade teacher and resource creator who writes to inspire language arts teachers with tips and resources for their middle school classroom.  Learn more at MrsBeers.com
Media Contact

Company Name
Mrs Beers ELA, LLC
Contact Name
Erin Beers
Phone
513-360-8159
Address
7800 Laurel Ave
City
Cincinnati
State
OH
Postal Code
45243
Country
United States
Website
https://mrsbeers.com/