Canton, OH – Training a dog can be difficult, frustrating, and expensive. Many dog owners struggle to train their dogs on their own and often resort to hiring expensive trainers or giving up on the idea of training their dogs altogether. Dog training requires a lot of experience, and for starters, it can be hard to know where to start or how to correct bad behaviors. Ohio is a state where dogs are particularly easy to train thanks to Ridgeside K9 Ohio Dog Training which provides the best dog training possible at affordable rates. They offer several different training packages that are customized to fit the needs of each client, including their budget. Their trainers are experienced professionals who know how to get the best out of any dog.
Ridgeside K9 Ohio Dog Training is a police-owned and operated company that offers a range of programs to help dog owners train their pets. They have opened a brand new 6,000-square-foot facility that has full-service training programs for puppies, adult dogs, and police dogs. Their training programs are designed to address the underlying causes of each dog's behavioral issues, thus enhancing the dog's training retention. The company boasts a skilled team of nationally recognized trainers offering top-notch training guaranteed to achieve the best results. Interested clients can find out more about Ridgeside K9 Ohio for customized training packages that work for them and their pets.
Ridgeside K9 Ohio Dog Training offers board and train programs. They have several different board and train programs that are tailored to fit the dog training needs of their clients and the unique behavior of their dogs. They also work with the dog's owner to customize their training to their individual personality. In this program, dogs live with their trainers to be trained for a specified period of time depending on the board and train selected.
In addition, Ridgeside K9 Ohio Dog Training offers puppy training. In this program, their expert trainers focus on teaching puppies basic obedience commands and building a solid foundation for training and behavior development through crate training, socialization, and improvement with potty training.
Ridgeside K9 Ohio Dog Training is an excellent choice for private dog training. The training team specializes in individual attention and is committed to addressing the dog's needs by working together with both the dog and its owner. The training programs are customized to meet specific needs, and the approach helps dogs retain their training and ultimately improves relationships with their owners. They also offer dog day training and doggie daycare where dogs will not only be well-trained, but they'll also have the chance to interact with other dogs and people.
Ridgeside K9 Ohio Dog Training is located at 3110 Whipple Ave NW Suite 5, Canton, Ohio, 44718, US. For top-quality dog training services, contact their team by calling (330) 904-7930. For more information regarding services offered, visit the company's website.
Media Contact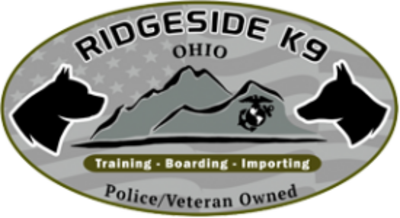 Company Name
Ridgeside K9 Ohio Dog Training
Contact Name
Eric Stanbro
Phone
(330) 904-7930
Address
3110 Whipple Ave NW Suite 5
City
Canton
State
Ohio
Postal Code
44718
Country
United States
Website
https://www.ridgesidek9ohio.com/