Surplus Electrical is owned, run, and managed by a veteran of the electrical industry with 38 years of experience, including 29 years as a diversified electrical contractor. They provide a variety of electrical products for commercial and residential enterprises as electrical wholesalers.
Surplus Electrical is an innovative, unique, and exceptional electrical company that specializes in the electrical business, delivering Buy-sell-auction And Request electrical products and equipment at wholesale costs. There is no other site dedicated to the electrical industry in North America that provides these services, thus setting them apart from their competition. Anyone can register a buyer's account, but their vendors or sellers must all be pre-approved in order for Surplus Electrical to provide buyers with well-represented relevant electrical sector products to peruse. Their strong platform supports an endless number of users and products with a wide range of applications for everyone in the electrical business.
Everyone has an excess, which is usually either sold to surplus houses or thrown out. On their site, clients will only view products for the electrical business from reputable retailers and vendors. To do business on the site, all sellers and vendors must first be approved by the Electrical Wholesaler. The platforms' goal is to make it as easy as possible for everyone using their platform to move surplus in a broad circle with the least amount of effort, time, and money.
Surplus Electrical's specific electrical sector listing standards give clients real-time costs by providing extensive product listing dropdown menus for six product conditions, four listing kinds, and several shipping options. The shipping is automated and controlled directly from the customer's account. They've also worked with two reliable 3rd-party online shipping platform suppliers, giving them the finest-in-class shipping of any electrical e-commerce site in North America. The suppliers simply print the weigh bill and dispatch it once the money is received, and Stripe provides their built-in payment system. Being fast, straightforward, and secure ensures that buyers and sellers have a smooth transaction before receiving electrical supplies.
Surplus Electrical is the ideal location for anything electrical because it is dedicated to the electrical business. They are North America's very own electrical buying and selling platform, with various industry-specific protocols in place to make buying and selling safe, simple, and extremely in tune with their sector. Buying, selling, and auctioning is accessible for used, new, take-out, refurbished, and even only for parts. They've also launched a new function that allows clients to request specific products for their next job. Their website is assured to assist in getting the task done and to make or save clients thousands of dollars. Surplus Electrical has things that no one else can, such as POS business solutions for electrical industry sellers. Because the owner and creator have been in the electrical sector since 1981 and have been in business as an Electrical Contractor for more than two decades, they have retained their reputation throughout North America.
To learn more about Surplus Electrical, contact them via phone at 1-888-886-7555. For more information, visit their website.
Media Contact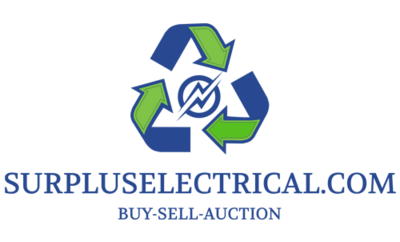 Company Name
Surplus Electrical
Contact Name
Brad Handel
Phone
1-888-886-7555
Country
United States
Website
https://surpluselectrical.com/